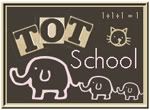 There were some changes and challenges to my life this year - nothing large or worth complaining about...but a bit overwhelming for me, nonetheless. (For example, we put my son in public school after 4 years of homeschooling because of special issues he has...we wanted to make sure we were doing everything possible to make his future the best it could possibly be.) I had to shift my way of doing things and living life, and I think I started losing my creativity and focus. I'm someone who needs to be focused and creative or else I'm...just lost. I'm getting back into the swing of things, though, with homeschooling again. I have followed along with the fun world of Tot School over at 1 + 1 + 1=1 for a long time, and I figured it was time we joined in.

I have a lot of pictures but nothing original this week. I just needed to jump in somewhere. Sissy (her blog name) enjoyed playing with Play-Doh in peace and quiet while her brothers were not home. One of my favorite things about Sissy is the way she gasps with excitement over so many things in life. She gasped when she pulled out the placemat given to her by her friend M at Live, Learn, Love in a blog swap. "My friend made it for me!"

And imagine her excitement when she found 2 unopened Easter egg-type containers of PINK and PURPLE Play-Doh. It was as if they was calling her name.

Big brother had a playdate at the park with one of his friends, and she got to run around with Mommy. There was a lot of, "Look! I can do it myself!"

During a trip to the teacher supply store to get oldest brother a journal, we picked up another set of Hot Dots. Tornado plays with his different phonics sets, and the other kids always want to play with them. They're too advanced for the younger ones, though, so we picked out two sets of Hot Dots, Jr.: Colors and Beginning Phonics.

She likes them because they come in a little carrying case, and she is all about anything that resembles a bag or purse to put
things
in.
The Hot Dots, Jr.
set can also be purchased with a cuter dog pen, but we didn't spend the extra since we already had the regular one at home. You press down on the correct answer, and the pen lights up and says one of many positive responses like,
"Yes!"
or
"Good job!"
If you get it wrong, it lights up red and says something like,
"Sorry!"
or
"Try again!"

We did many PEA activities after reading
Little Pea
. You can read about those
here
.
I worked with her (until her 9 year old brother insisted on taking over the role as teacher) on putting her letters in order. She likes these
School Zone
magic picture cards (the kind that moves from letter to picture as you move it).
The 3 kids worked together on a spring collage. I just set out crayons, markers, glue, colored pasta, pipe cleaners, cotton balls, scrapbook die-cuts, and stickers and let 'em loose.
This is the final product. Sissy's section is first, then Dash's, and then Tornado's. Sissy found some nativity scene stickers in the sticker drawer and put them on her part.

When I saw what she had done, I said, "You wanted to have Jesus in the spring picture?"
"Yes."
"How come?"
"Because I wuv it."
"painting" the front porch columns with water
We read through this book that has a lot of questions to answer and things to pick out and sort.
Then, we did some sorting and pattern activities.
And she enjoyed seeing how fast she could get the blocks in each time.
practicing her stacking and order skills
They helped me cut strips of paper for our muffin tin activity.
We got out the flower press, and I showed her how to use it. We worked on pressing the flowers Daddy had brought home for "us" last week. (Because when Daddy brings home flowers to Mommy, she thinks they are
of course
for both of us.)
I had lots of helping hands who loved twisting the screws tight.
It is challenging to do activities with Sissy alone. Her big brothers always want to participate, which is GREAT-ish. We like for them, too, BUT then they always want to answer the questions, etc. That's actually why I feel like I need to do a more formal "Tot School" with her. Not only can you share good ideas with other moms, but it's accountability, as well - a good reminder not to get so caught up in housework and being on the move that you forget to take time to be an involved, effective parent. She's my little shadow buddy, and she's always content to do whatever older activities we are doing or just sit on my lap and listen. That's good, on one hand, because she's definitely picking up things from her older brothers. But I want to make sure I'm not skipping out on things she needs, too. Visit
Tot School
for amazingly creative ideas from other moms.